Venue
B117 Lecture Theatre,
Melbourne School of Design
Glyn Davis Building
University of Melbourne
Masson Road, Parkville VIC 3010
Ph: (03) 9035 5511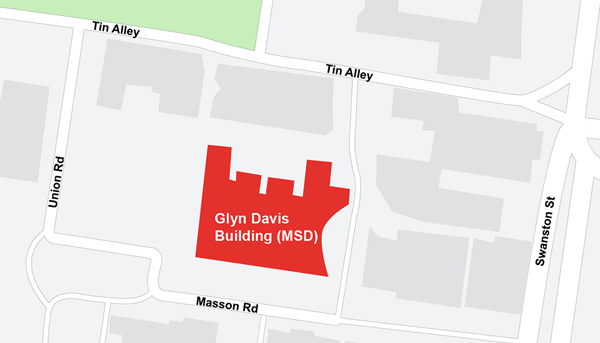 Accessibility
The conference venue is the Melbourne School of Design, University of Melbourne, Parkville Victoria.
Using a scooter, wheelchair or walking aid will not be a problem on the Parkville campus. All major theaters and classrooms are wheelchair accessible. However, since the University retains some old buildings, some buildings may not have a lift to the second floor.
Most of the theatres don't have a special seat for wheelchair users or a seat with a large space. However, all theatres have on area near the entrance which has more space that is big enough for a wheelchair.
Most buildings have a wheelchair accessible toilet. But some don't. There is a Parkville disability access map. Most accessible buildings will also have an accessible toilet and lift.
You can check disabled parking options on the disabled parking spaces map.
The accessible entrance to building is usually near the stairs. However, in some cases it is in a different place from the main entrance. Before going to classes, it is a good idea to take a tour and find out the accessible route on campus.
All libraries are accessible with lifts and an accessible toilet. If you are a wheelchair user, borrowing books and using computers will not be a problem.
Many low floor trams go to University of Melbourne. The stop is right in front of the Sidney Myer Asia Centre on Swanston street.
If you have any accessibility questions, please contact us via email: 
info@interpoint.com.au
or telephone 1300 789 845





For more information,
Interpoint Events Pty Ltd
A division of The Intermedia Group
ABN: 98 104 512 469
PO Box 55, Glebe NSW 2037
P 1300 789 845
F 02 9660 4419
E info@interpoint.com.au